GTA Trilogy "remastered" was released disappointingly, with many bugs, bad graphics and server crashes. In the end, the savior of gamers is not the famous game company Rockstar, but the modders. People who help make GTA Trilogy disasters less catastrophic, such as the night rain effect in the game.
Grand Theft Auto: The Trilogy is pretty bad, like a cancer that needs a doctor to treat. Fortunately, Rockstar is not good at that, but has a large and dedicated modder community.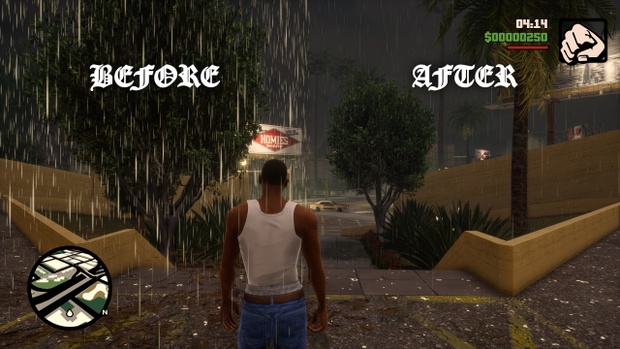 It's not clear why, but Rockstar creates a rain effect in Grand Theft Auto: The Trilogy like a bunch of white slime falling from the sky, making gamers no longer see the surroundings.
As a result, not one, but many modders had to remake the rain effect in the game. Something that seems very simple, but it seems that Rockstar is too sloppy to do better than that.
GTA San Andreas Definitive Edition fixes the rain effect.
It is the modder community that is saving Rockstar's lousy game, because of its endless passion for the legendary GTA game, without receiving a single salary from the game maker. Maybe Rockstar should at least say thank you to these modders, and try to do better to fix the bugs that are still in the game, instead of making the game unable to log in because of the error.
Reference: Kotaku
.