VMO Holdings Technology Joint Stock Company, principally operates in the field of providing quality digital products and solutions.
According to the signed strategic cooperation agreement, with its strength and experience in implementing digital technology, VMO will be the incubator for technology startup projects. Meanwhile, NextTech and the Next100 Blockchain fund will support investment and advise on building long-term development strategies for potential digital product projects developed by VMO.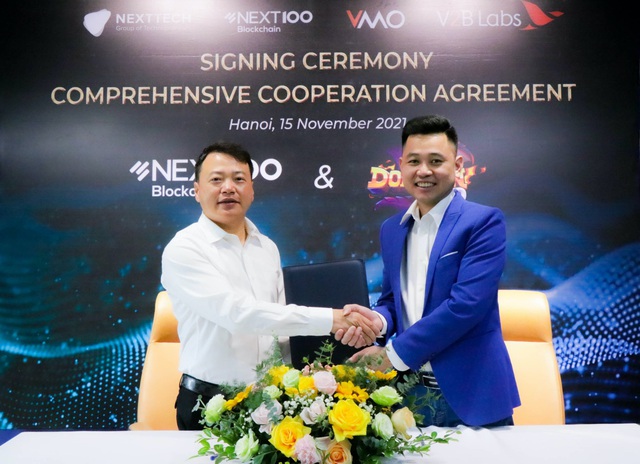 The signing ceremony of the cooperation agreement between VMO and NextTech is an important milestone in the cooperation relationship between the two prestigious technology enterprises, opening a new phase of cooperation in order to make the best use of the potential of both sides. This partnership also offers new solutions for digital commerce and digital transformation.
Also within the framework of the ceremony, NextTech Group and their Investment Fund officially announced the first project invested by the fund, which is a game project being developed by VMO.
Mr. Nguyen Hoa Binh (Shark Binh) – President of NextTech Group affirmed:
"With the cooperation with VMO Holdings, Next100 Blockchain not only brings Startup new business opportunities, but also accompanies and advises on strategy, supports communication and connects famous funds in the world; thereby creating a foundation Launching a strong Startup to reach the global investment market"
Information about VMO
VMO is a leading technology company in research and development of digital solutions, technologies, products and services. VMO Holdings Corporation is honored to reach the Top 10 Vietnam A-IOT enterprises in 2021, the Top 10 Vietnam Impressive Growth Enterprises in 2021 and the Top 10 typical Vietnamese enterprises in 2021.
Information about NextTech Corporation
Established in 2001, NextTech Group is one of the pioneering generations of technology startups in Vietnam. After nearly 20 years of experience in the market, the group has built an ecosystem of nearly 20 e-services in Vietnam, operating in 8 markets in Southeast Asia and China in 4 fields of e-commerce, technology, etc. financial technology, logistics and education. Recently, NextTech Group has established a specialized investment fund called Next100 Blockchain with a scale of 50 million USD. The fund was established with the purpose of supporting investment in technology startups in Vietnam and the world through the main investment model: equity contribution; Incubation model (Venture Build) in NextTech's ecosystem for capable individuals and projects in the technology field who want to support and accelerate start-ups.
Visit webiste: vmogroup.com for more detailed information about VMO.
.