The Shanghai Maglev Train is a maglev train operating in the city of Shanghai, China. This is the oldest commercial maglev train still in operation and the first commercial high-speed train with a travel speed of up to 431 km/h (as assessed by the Independent in 2017).
Reportedly, the train line connects Shanghai Pudong International Airport and Longyang Station (on the outskirts of downtown Pudong), where passengers can transfer to the Shanghai Metro to continue their trip to the city center. city. Construction cost is about 39 million USD/km.
High-speed train in Shanghai
Shanghai currently operates the world's only commercial maglev train system for a distance of 30 km. The construction of this line began in March 2001, and opened to the public on January 1, 2004.

The maglev line is operated by Shanghai Maglev Transport Development Co., Ltd and runs from 06:45 to 21:30 daily, with flights every 15 to 20 minutes. One-way tickets cost 50 yuan or 40 yuan for passengers who have a receipt or keep the ticket stub. Round trip tickets cost 80 yuan and VIP tickets cost twice the standard fare.
At full speed, the train takes just 7 minutes and 20 seconds to complete the 30 km, although some early morning and late afternoon trains will take around 50 seconds more. A train can reach a speed of 350 km/h in 2 minutes, and the maximum operating speed can be achieved is 431 km/h.
A 2007 statement by the operator said that with 4 million passengers in 2006, the system was able to cover its own operating costs. The cost ratios given are: 64% for electricity, 19% for maintenance and 17% for operation/support services; No specific amount has been given, though. The high cost-to-electricity ratio is due to short trip times and high operating speeds.
According to a 2007 article in Asia Times, in China, some infrastructure projects are called "image projects", or highlight projects. These projects are started and built not for the convenience or benefit of the people but mainly for "showing China's advanced and polished image".
The route could hardly be called a commercial success. Due to its unique technology, this train line cannot be linked with Shanghai's underground transportation system.
Travelers often complain that maglev trains don't really get them anywhere conveniently and that they still have to take a taxi to get to their destination. Train tickets are also quite expensive and this also makes passengers less interested. Therefore, trains are usually up to 80% empty and the loss is also understandable.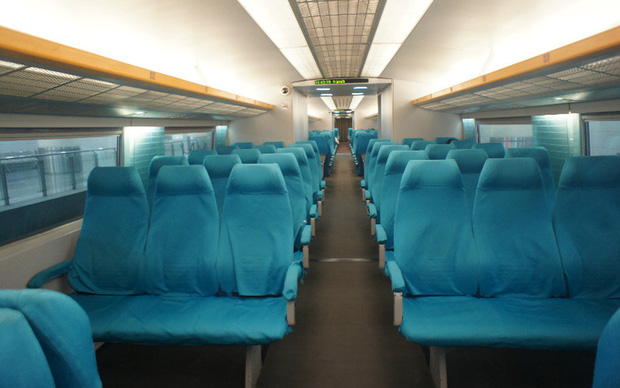 Inside the "world's fastest" commercial train.
According to Chinese media, due to high operating costs and lack of passenger flow, Shanghai Maglev Transport Company is said to be losing between 500 and 700 million yuan a year. In the first years of operation, the company operating the train lost more than 1 billion yuan.
Other plans
However, the Shanghai government still wants to build more maglev lines to other cities.
For example, a proposed route from Shanghai to Beijing was introduced in 2002, with an estimated route length of about 1,400 km and an estimated cost of $20 billion. Government experts and China Railway Ministry officials strongly oppose this proposal because of impracticality, high cost and high risk. In the end, the central government vetoed the proposal.
However, the CEO of ThyssenKrupp (German multinational corporation focusing on industrial engineering and steel production), Dr Ekkehard Schulz said he is sure that not only Germany, but many countries will follow. Chinese mirror.
The German government along with several German companies have sought to win more projects for their maglev technology and insist that a train ride between Shanghai and the Chinese capital Beijing remains a viable project. exam. However, no projects have been finalized as of 2014.
The second proposal is a plan to build a 175km maglev high-speed train line connecting Shanghai to Hangzhou, the capital of neighboring Zhejiang province. However, this project also encountered many fierce controversy.
According to Xinhua, the Shanghai-Hangzhou train project has been postponed indefinitely because "the one-way fare of 150 yuan is clearly too high for ordinary people."
Professor Li Hong, a researcher at the China Institute of Transport, said high ticket prices were the main reason for the commercial failure of Shanghai maglev trains. "The airline's ticket sales are only 100 million yuan a year, so it will take another 100 years to break even," he said.
.